Mantis World joins Prince of Wales Mission for Sustainable Cotton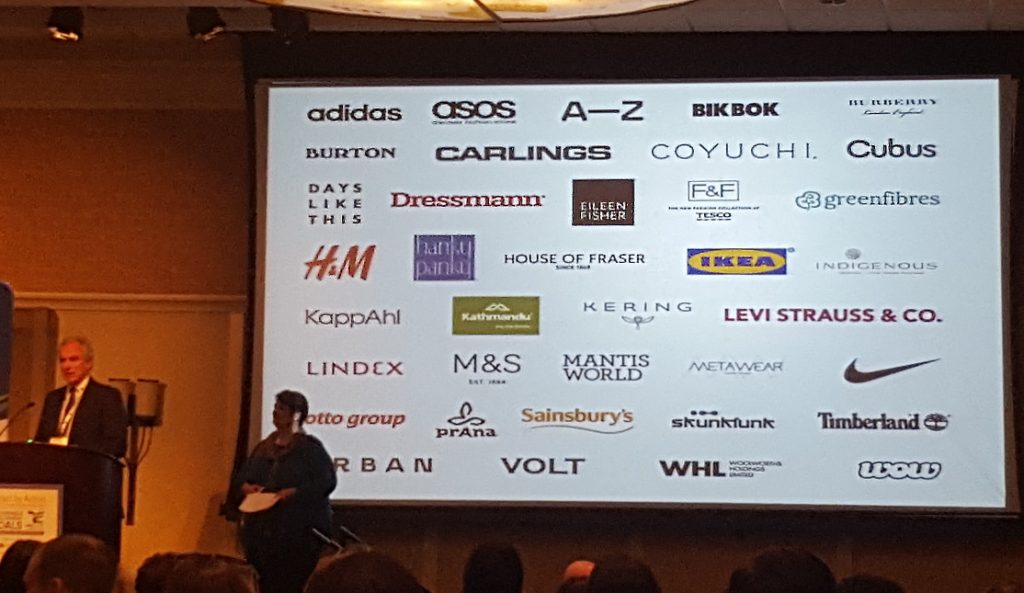 Justin Mundy, the Director of the Prince's Charities' International Sustainability Unit (ISU), announces that 36 brands and retailers have now signed up to the Sustainable Cotton Communiqué and so pledged that, by 2025, 100% of the cotton they use will come from sustainable sources. Mantis World, thus far the only representative of the Printwear industry, stands alongside some of the world's most renowned brands and retailers including Burberry, H&M, Adidas, M&S and Timberland in joining this commitment.
This announcement was made at the annual Textile Exchange Sustainability Conference in Washington DC, where over 500 textile and apparel leaders came together to discuss the most important sustainability issues facing the industry.
In order that sustainable cotton becomes standard business practice, the amount of sustainable cotton grown and bought must increase significantly. This pledge clearly demonstrates that there is a demand for more sustainable cotton, and one that will only increase. The commitment made by these signatories will help to drive sustainable practices across the sector by helping alleviate the environmental and social pressures that are too often associated with cotton production including the over-use of pesticides, the release of greenhouse gases, the depletion of local water sources and rising costs of production.
The Sustainable Cotton Initiative, part of the ISU as established by HRH The Prince of Wales, recognises several existing standards as delivering sustainable cotton: Organic, Fairtrade, Better Cotton Initiative (BCI), Cotton Made in Africa and, with reference to recycled cotton, the Global Recycled Standard (GRS) and the Recycled Claim Standard (RCS).
One Step Beyond: Mantis World's 4-year plan
However, Mantis World has gone deeper than this undertaking by announcing their pledge to move to only sustainable cotton available 4 years earlier than as required by the Communique. The brand has committed to using only the most sustainable cotton, i.e. 100% Organic or recycled cotton, by 2021 whilst additionally committing to increasing their use of recycled polyester (rPET) over the next 12 months.
Prama Bhardwaj, CEO of Mantis World explains:
"The printwear industry is built around large levels of stockholding with the same style being relevant for years – unlike retail which has seasonal collections lasting just a few months. This, together with continuity demands from the customer, means making changes to existing lines is always difficult. Whilst our policy for the last few years has been to introduce brand new styles in only sustainable materials such as organic cotton or TENCEL® by Lenzing, our challenge with regards sustainable fibres has been how to approach those existing, running lines. We are delighted to announce we will be transitioning our existing styles to organic cotton, with work already underway to move our bestselling Superstar T's and Babybugz T's, bibs and bodysuits. From the customer's perspective there will be no impact on the feel of the fabric, the colour or look of the garment, with the only perceptible difference being the addition of a 3rdparty, organic-certification logo to the swing tag".
And what about price?
"There is a small premium on the price of organic cotton, but when the environmental and social costs of conventional cotton organic cotton are factored in, we believe it's worth it. We can also confirm that Mantis World will be absorbing some of that price premium so that customers will be able to buy organic at nearly the same price as current conventional cotton".
A Call to Action for the Industry
"We want to demonstrate that the printwear industry, as a whole, can make sustainability the norm rather than the niche. We hope that all suppliers will join us at a pre-competitive level and make organic and sustainable cotton a given. If multi-billion-dollar companies such as Kering, Adidas and H&M can do it, why can't we?"
Notes to Editors
This announcement, made at the annual Textile Exchange conference, follows the launch of the sustainable cotton communiqué at a high-level meeting in May this year that was attended by HRH The Prince of Wales and organised by The Prince's International Sustainability Unit (ISU) in collaboration with Marks & Spencer and The Soil Association (UK). The 36 companies that have signed the communiqué are: ASOS, Eileen Fisher, Greenfibres, H&M, IKEA, Kering, Levi's, Lindex, M&S, Nike, Sainsbury's, F&F at Tesco, Woolworths, Adidas, A-Z, BikBOk, Burberry, Burton Snowboards, Carlings, Coyuchi, Cubus, Days like This, Dressmann, Hanky Panky, House of Fraser, Indigenous Designs, KappAhl, Kathmandu, Mantis World, OTTO Group, prAna, SkunkFunk, Timberland, Urban, Volt and Wow. *
Information about cotton and sustainability
Cotton is the most abundantly produced natural fibre and its production supports the livelihoods of over 350 million people1. Despite its global importance, cotton production can be beset by many environmental and social challenges that undermine the sustainability of the overall sector. Whilst cotton only covers 2.4% of the world's arable land, it accounts for 6% of global pesticide use2. With around 2,720 litres of water needed to make just one t-shirt, cotton production is highly dependent on water, and artificially irrigated areas can deplete local water sources3. Higher temperatures and changing rainfall patterns caused by climate change are likely to cause severe water shortages in some areas, as well as increase the prevalence of pests and diseases, and in turn negatively affect yields. The challenges of the cotton sector are also social and economic, with cotton farmers and their dependents negatively impacted by the over-use of pesticides and petroleum based fertilizers, and rising costs of production and volatile market prices.
[1] Fairtrade Foundation, Commodity Briefing: Cotton, 2015
2 Pesticide Action Network UK, 2017: http://www.pan-uk.org/cotton/
3 Fairtrade Foundation, Commodity Briefing: Cotton, 2015
More information, including the full text of the Sustainable Cotton Communiqué, is available on the ISU website: www.pcfisu.org/sustainable-cotton