We are 'leading' in Preferred Fibres Sourcing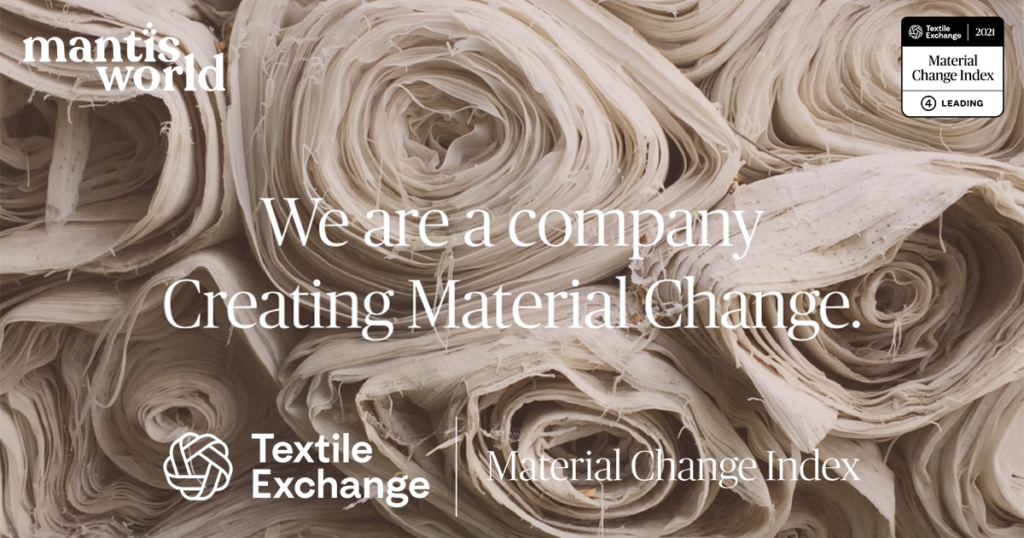 We've been awarded level 4 'Leading' status in Textile Exchange's Material Change Index 2021 report. 'Leading' is the highest level of award available and is only awarded to companies that are seen to be pioneering industry transformation, scoring 76-100 out of 100 possible points.
Proud Moment
'We're incredibly proud of this achievement' said Prama Bhardwaj CEO & Founder of Mantis World, 'our approach to preferred materials sourcing and drive for continuous improvement in this area, underpins everything we do & all of the garments that we create. By taking part in the benchmarking program, we hope to demonstrate complete transparency about our work and encourage others to join us on this journey.'
Benchmarking Program
We have been reporting to TE's Corporate Fibre & Materials Benchmarking program since 2018, our company scorecard shows results improving from 69.27 to 79.26 during this time. Always seeking to lead from the front, we introduced Organic Cotton to our collections back in 2005, adding recycled polyester in 2017. We completely eliminated conventional cotton from production in 2019 and more recently introduced In-Conversion Cotton. Our fashion-led range of blank apparel is ready for the eco-conscious consumer to personalise, no matter the industry.
What is the MCI?
The MCI (Material Change Index) is the largest voluntary peer-to-peer comparison initiative in the fashion and textile industry, tracking the sector's progress towards more sustainable materials sourcing. It aligns with global efforts like the Sustainable Development Goals (SDGs), the transition to a circular economy and enables participating companies to measure, manage, and integrate a preferred fibre & materials strategy into their business. Their ambition is to be the driving force for urgent climate action on textile fibre and materials. By benchmarking the industry and providing actionable tools for improvement, Textile Exchange is seeking to create a race to the top.
See the full Index of results at https://mci.textileexchange.org/change-index/